Tracking down air pollution particles
Particulate matter PM1, PM2.5, and PM10 typically originate from both environmental and human factors such as pollen, dust, wildfires, industrial plants, landfills, etc. They can cause serious health problems, especially to people with respiratory conditions. Aerys P tracks these dangerous air particles and raises awareness to minimize people's exposure to these risks.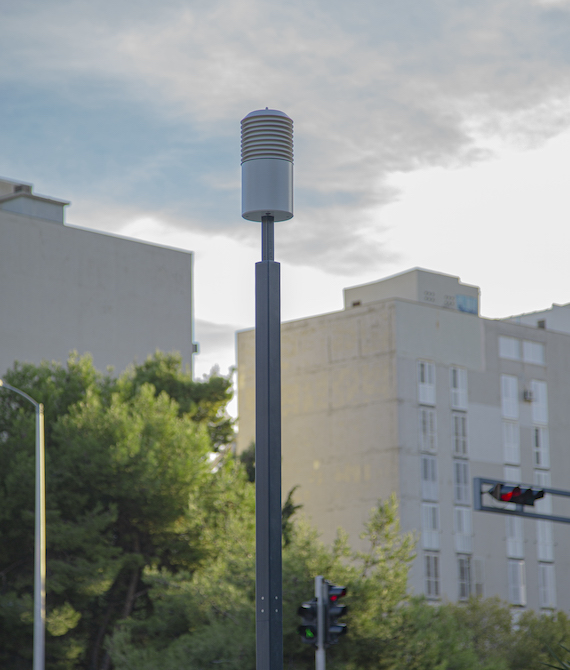 Know what's in the air
With insight into particulate matter data, communities have a better understanding of how pollution affects the health of citizens.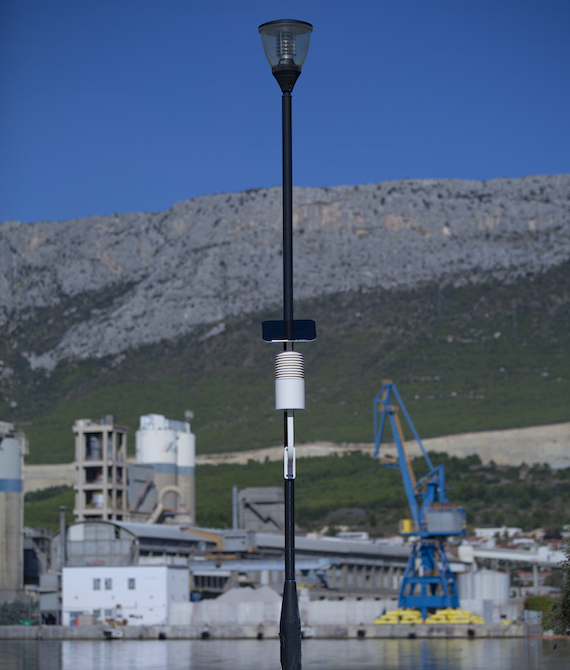 Map out pollution areas
Data-based pollution intelligence helps cities map out highly congested areas versus clean areas and take action.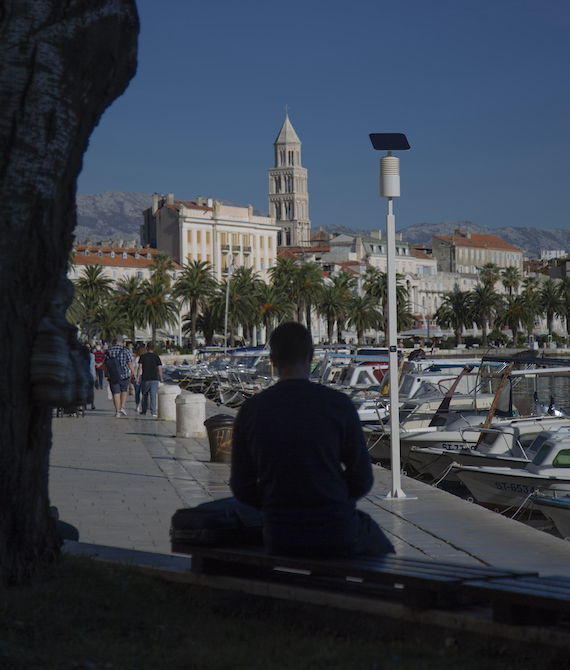 Place it anywhere
A small and inconspicuous footprint allows Aerys to be placed at sensitive and highly populated locations such as schools, university campuses, hospitals, playgrounds, walkways, or parks.
Technical specifications
Dimensions: W: 22 cm ; D: 22 cm ; H: 64 cm. Weight: 10 kg
Materials: fiberglass, ABS, hot-dip zinc coated steel (EN10346), galvanized low carbon steel (ISO 2081)

Low-temperature resistance
Advanced BMS

PHT sensor – pressure, temperature, humidity
Energy sensors

Online alarm if Aerys location changes
Location visible over Solos Smart City platform

Included 5-year connectivity with Solos Smart City platform
Online product maintenance and updates

Monitoring PM1, PM2.5 and PM10
Laser-scattering technology

Additional options

Metal pole for standalone installation of the Aerys station
Height: 3 m (ships in two 1.5 m pieces)

Wall mount for installing Aerys station on the concrete wall or existing metal pole (e.g. streetlight pole)

By scanning the code or tapping the phone to NFC tag, citizens can read real-time data from Aerys station

20W power output
Designed for off-grid power system

Using grid power or streetlight power to recharge the built-in li-ion battery pack

Sensor range from 25 dB to 130 dB
Contact us to find out more how this would work in your community.