For cleaner and healthier cities.
The monolithic design of the Terra Public hides a regular plastic bin, while the outsides house a polycarbonate solar panel, sensors and a GPS locator. Built-in waste compactor increases the 20 L volume of the container threefold. Administrators can see as it fills up so they can manage collection routes efficiently and promptly respond to current events.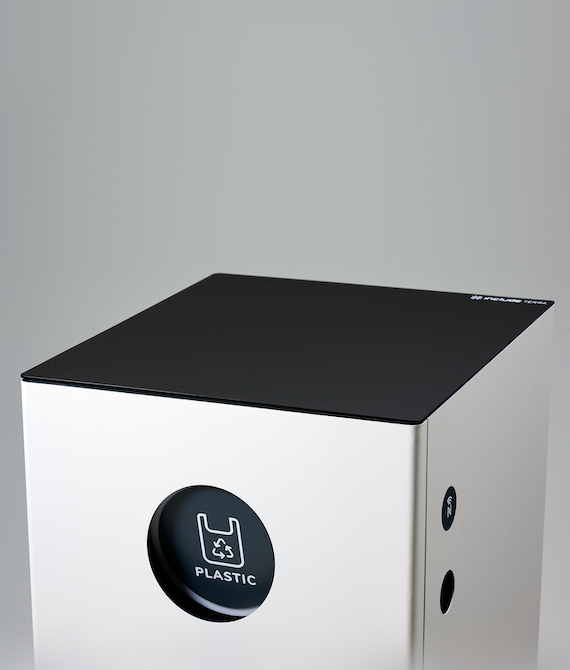 City slick
Built for public use in the city streets, as well as nature parks. Resistant to all atmospheric conditions, the shell houses a resilient polycarbonate solar panel that feeds an intelligent Li-Ion battery needed to power the waste compactor inside the inner bin. Sensors in the body and a GPS locator connect to Solos dashboard so you can check the location and status of every Terra Public in your care at all times.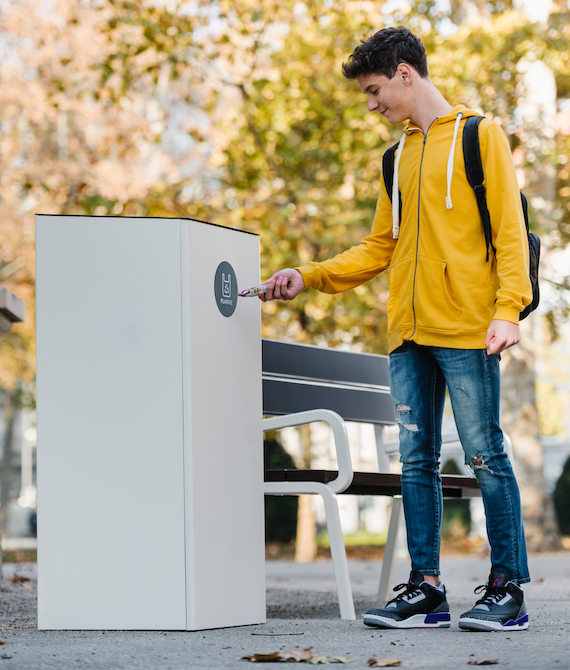 Vandal-proof
The sturdy outer shell can sustain massive abuse and a sensor within the body of Terra Public will notify you if it changes location, or starts emitting unusual amounts of heat. GPS locator within the outer shell lets you know if your Terra Public has moved - which should be impossible, as it mounts onto a concrete base.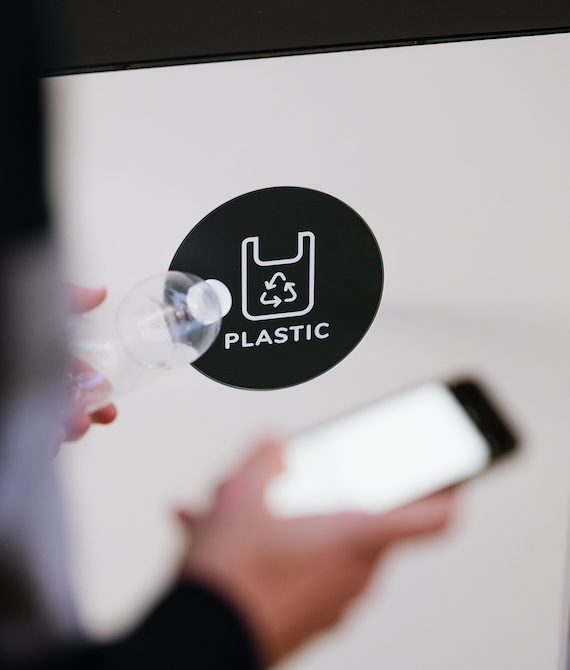 Well behaved
Designed to inspire interaction and responsible waste management, each Terra Public comes with a built-in voice interaction system, so it can thank the users for being responsible. Sensors keep track of the weight of waste produced, frequency of use, waste produced per location, current location, temperature, humidity - your Terra Public can even check air quality and other atmospheric conditions throughout the city.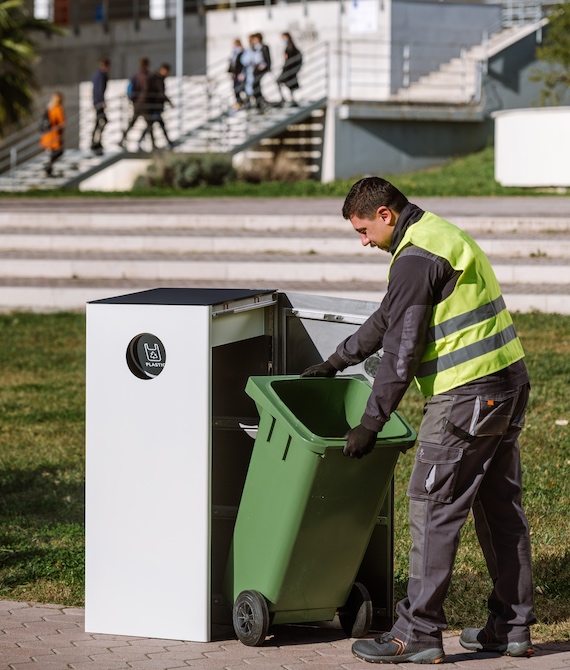 Manage waste like never before
With smart RFiD lock system, Terra public cans are secure from unauthorized opening. Waste collectors don't have to physically check the status of each can waste level, as they receive real-time data through the Waste management app on Solos dashboard.
Technical specifications
Dimensions: W: 55cm ; D: 55cm ; H: 125cm. Weight: 60 kg.
Materials: alu-zinc and aluminum

IK08 (EN 62262) vandal proof
40W power output

Low-temperature resistance
Advance BMS

Autonomous mechanical press
Compacting up to 3 times more waste compared to a regular container

Real-time waste level tracking

Online alarm if bin location changes
Location visible over Solos Smart City platform

Included 5-year connectivity with Solos Smart City platform
Online product maintenance and updates

Integrated into the trash can body
25%, 50%, 75% and 100% status

Additional options

12V charger for fast charging
Charged in less than 30 minutes

Pre-recorded audio messages, such as "thank you for sorting waste"

Real-time alarm in the case of fire
Think our waste containers would fit into your community?