Big. Now even bigger.
Terra residential dumpsters are fulfilling even the highest waste disposal demands. With integrated waste compaction system, biggest Terra dumpster can store average family waste for almost a month before it needs to be collected. Instead of collecting waste every day, waste collectors can now reduce their collections to twice a week. Using Waste management app via Solos dashboard, waste collectors can track waste level status in each dumpster, meaning they don't have to reach every dumpster, thus saving time and money.  Terra residential dumpsters are available in 770L and 1100L sizes.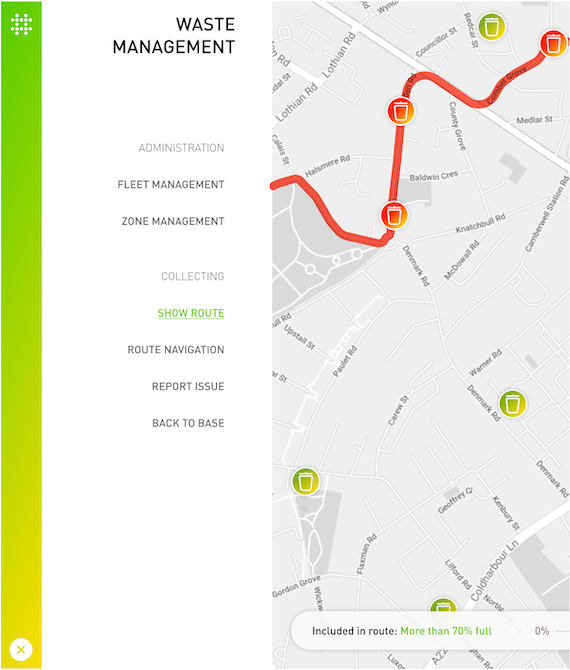 Save time and money with Waste management app
Each Terra residential dumpster is connected to Solos dashboard, where using Waste management app waste collecting companies can track waste level in each container and create optimal collection routes. Waste management app in combination with Terra waste compaction system can save cities millions of euros every year and lower CO2 emissions.
Find out more about Solos
Technical specifications
770L – W: 137 cm; D: 78 cm; H: 121 cm
1100L – W: 121 cm; D: 111 cm; H: 141 cm

IK08 (EN 62262) vandal proof
40 W power output

Low-temperature resistance
Advance BMS

Autonomous mechanical press
Compacting up to 3 times more waste compared to a regular container

Real-time waste level tracking

Online alarm if bin location changes
Location visible over Solos Smart City platform

Included 5-year connectivity with Solos Smart City platform
Online product maintenance and updates

Additional options

Real-time waste weight tracking per user
Add-on for PAYD "Pay-as-you-dispose" feature

RFiD cards for citizens and Android/iOS app
Two disposal tracking options: By number of openings or By waste weight

12V charger for fast charging
Charged in less than 30 minutes

Pre-recorded audio messages, such as "thank you for sorting waste"

Real-time alarm in the case of fire
Want to know more about how Terra containers can save millions to your city?