A small bin with a storing capacity of a big dumpster.
Terra residential bin stores up to three times more waste compared to classic bins. This happens thanks to our advanced waste compaction system which tracks waste level inside the bin and automatically starts the compaction process when the waste level exceeds a preset level. Three times more waste storing means three times less waste-collecting with huge garbage trucks, there times less cost and three times lower CO2 emissions. Terra bin is available in three volumes sizes - 80L, 120L and 240L.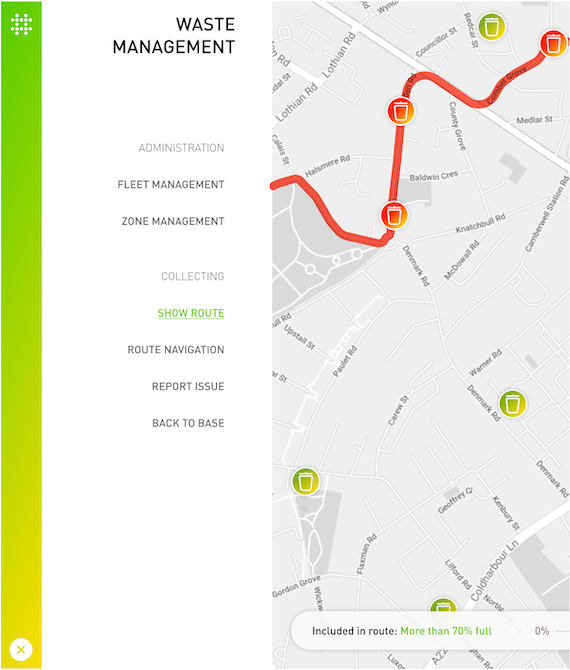 Save time and money with Waste management app
Each Terra residential bin is connected to Solos dashboard, where using Waste management app waste collecting companies can track waste level in each container and create optimal collection routes. Waste management app in combination with Terra waste compaction system can save cities millions of euros every year and lower CO2 emissions.
Find out more about Solos
Technical specifications
80L – W: 44 cm; D: 51 cm; H: 93 cm
120L – W: 48 cm; D: 55 cm; H: 93 cm
240L – W: 57 cm; D: 73 cm; H: 107 cm

IK08 (EN 62262) vandal proof
20 W power output

Low-temperature resistance
Advance BMS

Autonomous mechanical press
Compacting up to 3 times more waste compared to a regular container

Real-time waste level tracking

Online alarm if bin location changes
Location visible over Solos Smart City platform

Included 5-year connectivity with Solos Smart City platform
Online product maintenance and updates

Additional options

Real-time waste weight tracking per user
Add-on for PAYD "Pay-as-you-dispose" feature

RFiD cards for citizens and Android/iOS app
Two disposal tracking options: By number of openings or By waste weight

12V charger for fast charging
Charged in less than 30 minutes

Pre-recorded audio messages, such as "thank you for sorting waste"

Real-time alarm in the case of fire
Think our waste containers would fit into your community?